Joshua Tree National Park is like no other place on earth, with its signature Joshua trees, giant boulders, and surrounding mountains that create an almost surreal landscape and make you feel like you have entered another world. Camping here is nothing less than spectacular, with scenic campgrounds spread around massive rock formations and sites just perfect for pitching a tent or setting up an RV.
It's hard to say any one campground is significantly better than another, and sometimes deciding where to camp in Joshua Tree really comes down to where you want to be centered in the park and what is available when you arrive. The main road through the park, running from east to west, is called Park Boulevard and this is where many of the most popular hikes and sites are found. Some campgrounds lie along this corridor, and a couple of others are nearby. For the most part, this is the preferred area for camping.
Overview of the Best Campgrounds
Along the main thoroughfare of Park Boulevard, Hidden Valley, Ryan, and Jumbo Rocks are the three campgrounds most central to the main tourist attractions in Joshua Tree National Park and all offer outstanding scenery. Belle and White Tank campgrounds are on the east side of the park and are slightly more removed but have equally stunning settings and beautiful sites. Indian Cove is a nice campground set amid boulders, but it is off the main roads running through the park and will require commuting and possibly a wait at the entrance station to get into the main section of the park.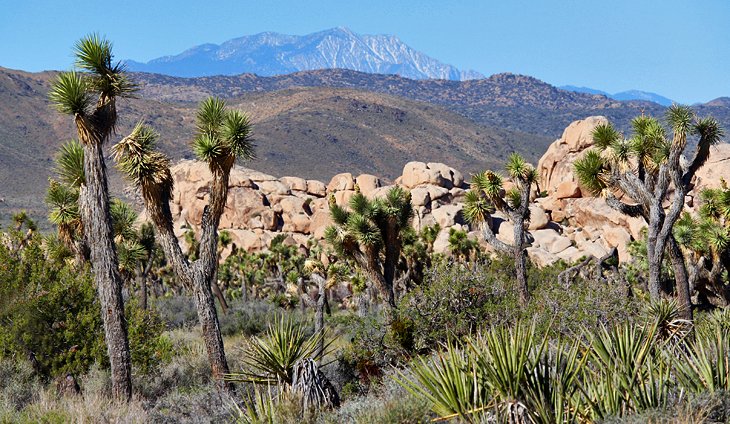 Reservations and First-Come, First-served Campgrounds
There are a total of nine campgrounds in the park, although Sheep Pass is only open to groups. Most of the campgrounds are first-come, first-served, and to have the greatest chance of getting a site, it's best to arrive as early in the week as possible and don't count on getting a site on a Friday afternoon from October to May. In many cases, you may not even be able to secure a campsite on a Thursday afternoon, especially if the weather is nice. The campgrounds are almost always full on weekends during this time period.